IMPACT OF PANDEMIC PERIOD OF COVID-19 ON ONLINE LEARNING AND TEACHING IN TEACHER EDUCATION
Palavras-chave:
Educational technology, Online learning and teaching modes, Pandemic period, Student teachers, Teacher education
Resumo
Online learning is an educational process which takes place over the Internet as a form of distance education. Distance education became ubiquitous as a result of the Covid-19 pandemic. Because of these circumstances, online learning and teaching had an indispensable role in teacher education programs, even though debates continue on whether or not it is beneficial for prospective teachers to be exposed extensively to Information and Communication Technology (ICT). This descriptive study demonstrates how a student teacher course in teacher education was redesigned to provide student teachers with opportunities to learn and practice through online. It reports experiences and reflections from a practicum course offered in the teacher education courses in the Tirunelveli. It describes three phases of the online student teachers' experiences Preparation, Implementation, and Reflection. Tasks accomplished in each phase are reported. Online teaching experiences provided these student teachers with opportunities to interact with others, as well as to encourage reflection on how best to promote prospective teachers development and learning with online communication tools.
Referências
AISHE. All India Survey on Higher Education. Ministry of Human Resource Development. New Delhi: Government of India, 2019.
ARISTOVNIK, Aleksander; KERŽIˇC, Damijana; RAVŠELJ, Dejan; TOMAŽEVIˇC, Nina; UMEK, Lan. Impacts of the COVID-19 Pandemic on Life of Higher Education Students: A Global Perspective. Sustainability, 12, p. 8438, 2020.
Bridges, W. Managing transitions: Making the most of change. Boston: Addison-Wesley Pub- lishing Company, Inc., 1991.
DE BROUWER, E.; RAIMONDI, D.; MOREAU, Y. Modeling the COVID-19 outbreaks and the effectiveness of the containment measures adopted across countries. medRxiv, 1–8, 2020.
DQ INSTITUTE. Outsmart the Cyber-pandemic: Empower every child with digital intelligence by 2020. 2019.
EDSOURCE. Coronavirus: Highlighting strategies for student success. 2020. Retrieved from: https://edsource.org/topic/coronavirus.
GOPAL, Ram; SINGH, Varsha; AGGARWAL, Arun. Impact of online classes on the satisfaction and performance of students during the pandemic period of COVID 19. Education and Information Technologies, 2021.
ILLICH, I. Deschooling society. New York: Harper & Row, 1971.
JOHNSON, B.; CHRISTENSEN, L. Educational research: Quantitative, qualitative and mixed approaches. 4. ed. Thousand Oaks, California: Sage Publications, Inc., 2012.
KHACHFE, H. H.; CHAHROUR, M.; SAMMOURI, J.; SALHAB, H.; MAKKI, B. E.; FARES, M. An Epidemiological Study on COVID-19: A Rapidly Spreading Disease. Cureus, 12 (3), 2020.
KIM, Jinyoung. Learning and Teaching Online During Covid‑19: Experiences of Student Teachers in an Early Childhood Education Practicum. International Journal of Early Childhood, 52, p. 145–158, 2020.
LEI, Man; MEDWELL, Jane. Impact of the COVID‑19 pandemic on student teachers: how the shift to online collaborative learning affects student teachers' learning and future teaching in a Chinese context. Asia Pacific Education Review, n. 22, p. 169–179, 2021.
LOKANATH, Mishra; TUSHAR, Gupta; ABHA, Shree. Online teaching-learning in higher education during lockdown period of COVID-19 pandemic. International Journal of Educational Research Open, 2020.
POKHREL, Sumitra; CHHETRI, Roshan. A Literature Review on Impact of COVID-19 Pandemic on Teaching and Learning. Higher Education for the Future, 8(1), 133–141, 2021.
RASMITADILA. The Perceptions of Primary School Teachers of Online Learning during the COVID-19 Pandemic Period: A Case Study in Indonesia. Journal of Ethnic and Cultural Studies, vol. 7, n. 2, 90-109, 2020.
REMUZZI, A.; REMUZZI, G. COVID-19 and Italy: What next? Lancet, 395, 1225–1228, 2020.
SAHU, P. Closure of universities due to corona virus disease 2019 (COVID-19): Impact on education and mental health of students and academic staff. Cureus, 12 (4), 1–6, 2020.
ZAYAPRAGASSARAZAN, Z. In: COVID-19: Strategies for online engagement of remote learners. pp. 1–11. F1000Research. Org/, 2020.
ZHANG, W.; WANG, Y.; YANG, L.; WANG, C. Suspending classes without stopping learning: China's education emergency management policy in the COVID-19 outbreak. Journal of Risk and Financial Management, 13 (55), 2–6, 2020.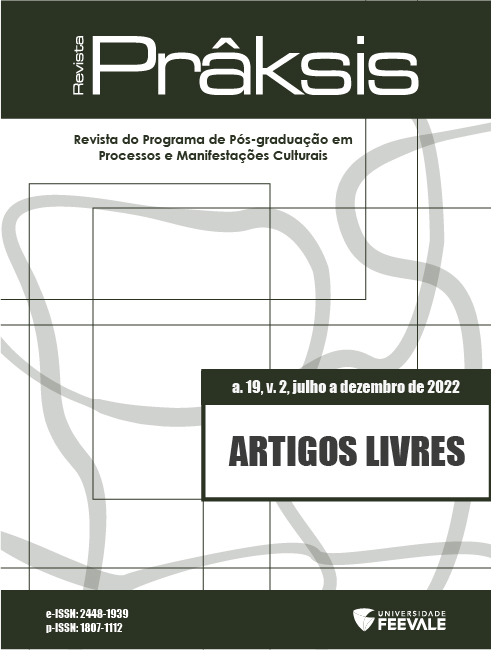 Downloads
Como Citar
Sundararasan, T., & Kalaiyarasan, ‪G. (2022). IMPACT OF PANDEMIC PERIOD OF COVID-19 ON ONLINE LEARNING AND TEACHING IN TEACHER EDUCATION. Revista Prâksis, 2, 211–224. https://doi.org/10.25112/rpr.v2.2745
Licença
Copyright (c) 2021 SUNDARARASAN T, ‪Gopi Kalaiyarasan
Este trabalho está licenciado sob uma licença Creative Commons Attribution-NonCommercial-NoDerivatives 4.0 International License.
• Os autores mantêm os direitos autorais e concedem à revista o direito de primeira publicação com o trabalho licenciado sob a Licença Creative Commons - Attribution 4.0 International (CC BY 4.0).
• Os autores são estimulados a publicar e distribuir seu trabalho online (ex.: em repositórios institucionais ou na sua página pessoal), pois isso pode aumentar o impacto e a citação do trabalho publicado.