CREATIVE CITIES AND THE TOURIST EXPERIENCE: AN ANALYSIS OF THE KNOWLEDGE PRODUCED AND A LISTENING ON CREATIVE RECIFE
Palavras-chave:
Creative Cities, Culture, Creativity, Tourist experience
Resumo
The creative cities have presented themselves as a new and distinct way of offering attractions to tourists, and these new possibilities have resulted in differentiated and unique experiences for those who not only enjoy but also frequently participate in the creative processes. As a result of this knowledge gap, this article has the following objectives: to relate what has recently been published in one of the main databases in the literature on creative cities and the tourist experience; to detect the objectives and contexts of research on creative cities and the tourist experience; and to identify what has been done in Recife - PE/Brazil - which is one of UNESCO's creative cities - to encourage, enhance, and disseminate the creative potential of this city. As a methodology for selecting what has been published, criteria for article selection were established using keywords such as creative cities, tourism, and tourist experience. Furthermore, a synthesis of knowledge on this topic was possible, allowing perception of what is already known about the topic and what still needs to be researched, as well as pointing out directions for future investigations and some limitations of studies in this area. Because some study gaps were identified, it is possible to conclude that the themes of creative cities related to the tourist experience have the potential to be much more researched. The main limitation of this study is the fact that it is a systematic review of the literature, through only one database, and therefore, it is suggested as relevant for future research an updated systematic review, since many other works arise daily.
Referências
ASHTON, S.; TOMAZZONI, E.; M. EMMENDOERFER. Elementos para a validação de cidades criativas como destinos turísticos competitivos. Turydes: Turismo e Desarrollo Local, v. 7, n. 17, p. 1-14, 2014.
CHANDRALAL, L.; VALENZUELA, F. R. Memorable Tourism Experiences: Scale development. Contemporary Management, 11(3), 291-310, 2015.
CHAN, Chung Shing; CHANG, T.; LIU, Yating. Investigating Creative Experiences and Environmental Perception of Creative Tourism: The Case of PMQ (Police Married Quarters) in Hong Kong. Journal of China Tourism Research, 1-22, 2020.
CORDEIRO, A.; OLIVEIRA, G.; RENTERIA, J.; GUIMARÃES, C. Revisão sistemática: Uma revisão narrativa. Rev. Col. Bras. Cir., v. 34, n. 6, 2007.
EMMENDOERFER, M. L.; ASHTON, M. S. G. Territórios criativos e suas relações com o turismo. Revista Turismo & Desenvolvimento, v. 21/22, p. 459 – 468, 2014.
EMMENDOERFER, M. et al. Destinos turísticos e desenvolvimento: o que foi publicado pela comunidade científica no Brasil antes da pandemia COVID-19? Navus - Revista de Gestão e Tecnologia, [S.l.], v. 11, p. 01-13, aug. 2021.
EMMENDOERFER, M. L.; NIQUINI, W. T. R.; RICHARDS, G. Design do programa Porto Alegre Turismo Criativo – Brasil. In: ASHTON, M. S. G. (Org.). Diálogos interdisciplinares: indústria criativa, processos culturais, diversidade e inclusão. Pimenta Cultural: São Paulo, 2021. p. 128-152. DOI: https://doi.org/10.5281/zenodo.5787522.
JAFARI, J.; RITCHIE, J. Toward a framework for tourism education: problems and prospects. Annals Of Tourism Research, 8(1), pp.13-34, 1981.
KARVELYTE, K. Shifting meanings in changing contexts: the role of the creative city in Shanghai, Hong Kong and Taipei. International Journal of Cultural Policy, 26, 1-18, 2018.
KIM, J. Development of a scale to measure memorable tourism experiences. Unpublished doctoral thesis, Indiana University, Bloomington, 2009.
KIM, J.; RITCHIE, J. R.; MCCORMICK, B. Development of a scale to measure memorable tourism experiences. Journal of Travel Research, 51(1), 12-25, 2012.
MARKWICK, M. Creative clusters in the regeneration of Valletta and the cultural politics of Strait Street. Urban Research & Practice, 11, 1-24, 2017.
MINISTERY OF TOURISM. Available at: https://www.gov.br/turismo/pt-br/assuntos/noticias/recife-e-campina-grande-passam-a-integrar-rede-mundial-de-cidades-criativas-da-unesco 31.05.22. Accessed in: june 2022.
OKOLI, C. A guide to conducting a standalone systematic literature review. Communications of the Association for Information Systems, 37(43), 879–910, 2015. Doi: https://doi.org/10.17705/1CAIS.03743.
PARK, E.; MUANGASAME, K.; KIM, S. 'We and our stories': Constructing food experiences in a UNESCO gastronomy city. Tourism Geographies. Advance online publication. Doi: https://doi.org/10.1080/ 2021.
PINE, B. J.; GILMORE J. H. The experience economy: work is theatre and every business a stage. Boston: Harvard Business School Press, 1999.
PULIDO-FERNÁNDEZ, J. I.; GARCÍA SUÁREZ, J. A.; CASADO-MONTILLA, J.; RODRÍGUEZ-DÍAZ, B. Measuring creativity in urban-cultural Spanish destinations. Boletín De La Asociación Española De Geografía, n. 89, 2021. Doi: https://doi.org/10.21138/bage.3074.
RECIFE CREATIVE TOURISM PLAN. Plan for Creative Tourism. 2018. Available at: https://visit.recife.br/wp-content/uploads/2020/02/plano_turismo_criativo.pdf. Accessed in: june 2022.
RECIFE CITY HALL. Available at: http://www2.recife.pe.gov.br. Accessed in: June 2022.
RECRIA – NATIONAL NETWORK OF EXPERIENCES AND CREATIVE TOURISM. Available at: https://www.recriabrasil.com/seja-recria. Accessed in: June 2022.
REIS, A. C. F.; URANI, A. Cidades criativas: perspectivas brasileiras. In: A. C. F. Reis; P. Kageyama (Eds.). Cidades criativas: Perspectivas. São Paulo: Garimpo de Soluções, 2011.
RICHARDS, G. Designing creative places: The role of creative tourism. Annals of Tourism Research, n. 85, 2020.
RODRÍGUEZ-GUTIÉRREZ, P.; GONZÁLEZ SANTA CRUZ, F.; PEMBERTHY GALLO, L. S. et al. Gastronomic satisfaction of the tourist: empirical study in the Creative City of Popayán, Colombia. J. Ethn. Food, v. 7, n. 8, 2020. Doi: https://doi.org/10.1186/s42779-019-0044-0.
SEPE, M. Urban history and cultural resources in urban regeneration: a case of creative waterfront renewal. Planning Perspectives, v. 28, n. 4, p. 595-613, 2013.
SOUZA, M. F. de; MELLO, A. da S.; COLVARA, L. F. Cidades Criativas da Unesco no Brasil: uma pesquisa exploratória sobre o comportamento do poder público na implementação de estratégias e estratégias voltadas à economia da cultura durante a pandemia provocada pela COVID-19. Revista Ciências Humanas - UNITAU, Taubaté/SP - Brasil, v. 13, n. 2, edição 27, p. 16 - 27, Maio/Agosto 2020.
ZHU, H.; YASAMI, M. Developing Gastronomic Resources: Practices of Unesco Creative Cities of Gastronomy. GeoJournal of Tourism and Geosites, v. 39, n. 4, p. 1406–1414, 2021.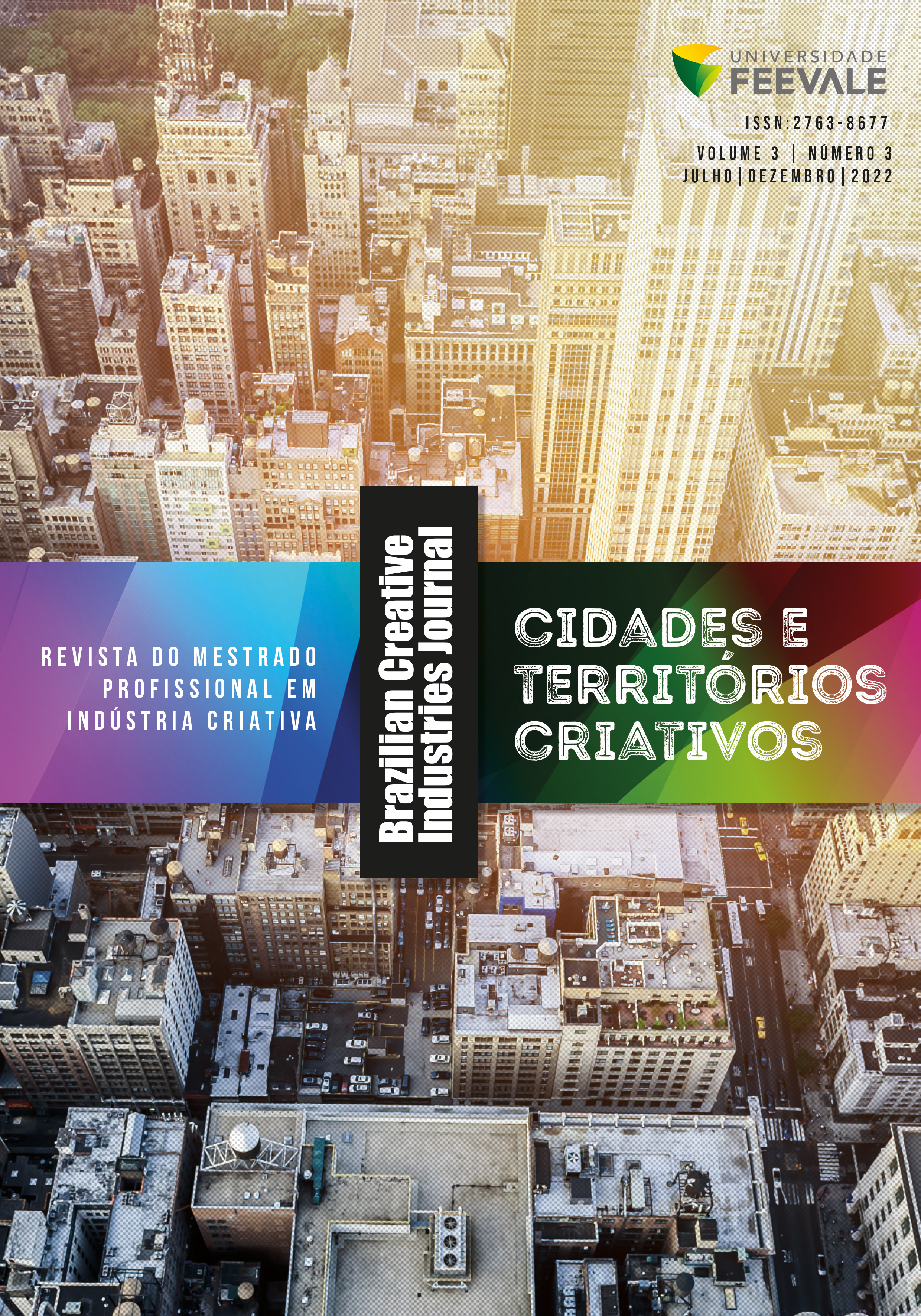 Downloads
Licença
Copyright (c) 2022 Marília Paes-Cesário
Este trabalho está licenciado sob uma licença
Creative Commons Attribution 4.0 International License
.