THE MOVIE INDUSTRY AND REGIONAL ECONOMIC DEVELOPMENT: THE CASE OF ROCCO SCHIAVONE AND THE AOSTA VALLEY
Palavras-chave:
Film Industry, Regional Economic Development, Stakeholders, Film-induced tourism, Italy
Resumo
The movie industry is a creative sector that has the potential to contribute to (regional) economic development. Understanding the role of different stakeholders in the different parts of the process of movie production is paramount to provide an overview of the aspects that underlie an interaction that leads to regional economic development. Therefore, this study aims at investigating to what extent the interaction of stakeholders in the movie industry contributes to fostering regional economic development. A qualitative approach based on the single case study of Rocco Schiavone, an Italian tv series set in the Aosta Valley was used. A total of 14 in-depth interviews were recorded among different stakeholders using a snowball sampling. and the results point out to different interactions and power relations between stakeholders. During the three phases of pre-production, production and post-production, stakeholders also experience tensions. The paper concludes by underlining that despite the mainly positive outcome in terms of benefits for stakeholders and consequent economic development in the region, there are also challenges regarding the precariousness of jobs in the sector and the development of film-induced tourism products.
Referências
ANDERSSON, T.; D.; GETZ, D. Stakeholder Management Strategies for Festivals. Journal of Convention & Event Tourism, 9(3), p. 199-220, 2008.
BABBIE, E. The Basics of Social Research. Canada: Wadsworth Cengage Learning, 2004.
BATT, P., J.; PURCHASE, S. Managing collaboration within networks and relationships. Industrial Marketing Management, 33, p. 169-174, 2004.
BOERNER, S.; JOBST, J. Stakeholder management and program planning in German public theatres. Nonprofit Management and Leadership, 22(1), p. 67-84, 2011.
BRYMAN, A. Social Research Methods. New York: Oxford University Press, 2012.
BUSBY G, KLUG J. Movie-induced tourism: The challenge of measurement and other issues. Journal of Vacation Marketing, 7(4), p. 316-332, 2001.
CHAPAIN, C.; STRYJAKIEWICZ, T. Creative Industries in Europe. Drivers of New Sectoral and Spatial Dynamics. Springer: UK, Birmingham. 2017.
CRISTOPHERSON, S.; RIGHTOR, N. The Creative Economy as "Big Business": Evaluating State Strategies to Lure Filmmakers. Journal of Planning Education and Research, 29(3), 336-352, 2010.
COLANGELO, D. Cinema in Basilicata: impatti su economia e turismo [movie industry in Basilicata: impacts on economy and tourism]. Fondazione Eni Enrico Mattei, 2018.
CUCCO, M.; RICHERI, G. Film Commission e sviluppo territoriale: esperienze a confronto e bilanci. Economia della Cultura, 2, 171-185, 2011.
EMMENDOERFER, M. L.; FIORAVANTE, A. S.; ARAÚJO, J. F. F. E. Federal government actions for the creative territories development in Brazilian context. Revista Brasileira de Gestão e Desenvolvimento Regional, 14(1), 400-424, 2018.
FARQUHAR, J. D. What is Case Study Research? London: Sage Publication, 2013.
FLORIDA, R. Cities and the Creative Class. New York: Routledge, 2005.
FLORIDA, R. The Flight of the Creative Class: The New Global Competition for Talent. Liberal Education, 92(3), 22-29, 2006.
FREEMAN, R. E. Strategic Management. A Stakeholder Approach. New York: Cambridge University Press, 2010.
FROST, W. From Backlot to runaway production: exploring location and authenticity in Film-Induced Tourism. Department of management working paper series, 36(6), 1-11, 2006.
GETZ, D. 'Why festivals fail'. Event Management, 7(4), 209–219, 2002.
HOYLE, R. H.; HARRIS, M. J.; JUDD, C. M. Research methods in social relations. Belmont Drive: Wadsworth, 2002.
KARLSEN, J. T Project Stakeholder Management. Engineering Management Journal, 14(4), 19-24, 2002.
LITVAK, I. A.; LITVAK, M. Economic Development and U.S. State Film Incentives. The Rush to Attract Film Production. The Economic Development Journal, 8(1), 14-22, 2009.
MARQUES, L. Creative clusters in urban spaces. In: J. HANNIGAN; G. RICHARDS (Eds.). The SAGE handbook of new urban studies. London: Sage, 2017.
NICOSIA, E. The Marche Film Commission: A Tool for Promoting Territorial Development and Regional Tourism. Journal of Tourism, Culture, and Territorial Development, 4, p. 161-179, 2015.
ONINK, T. Good Jobs: Why Innovation, Location and Education Matter Most. Forbes, 2012.
PETRUCCI, O. Rai Fiction: "Rocco Schiavone" conquista il mercato internazionale [website article]. 2018. Retrieved from: https://www.lospecialista.tv/rai-fiction-rocco-schiavone-conquista- il-mercato-internazionale/. Accessed on: 27 June 2022.
PÓVOA, D.; REIJNDERS, S.; MARTENS, E. A Brazilian Hollywood in the making? Film, tourism and creative city discourse in the hinterland of Paraíba. Internationl Journal of Cultural Studies, 24(5), 691-706, 2021.
RICHARDS, G. Rethinking cultural tourism. Cheltenham: Edward Elgar Publishing, 2021.
SARABIA, I.; SANCHEZ, J. The figure of the Film Commission in the put in value of the technical and professional audiovisual resources of a territory in Spain. Tourism and heritage journal, 1, 2019.
STIMSON, R. J. et al. Regional Economic Development: Analysis and Planning Strategies. Berlim: Springer, 2006.
TKLAEC, M. et al. The effect of film industry on tourism: Games of Thrones and Dubrovnik. International Journal of Tourism Research, 19, 705-714, 2017.
TZANELLI, R. Constructing the 'cinematic tourism'. The 'sign industry' of The Lord of The Rings. Tourist Studies, 4(1), 21-42, 2004.
UNESCO. United Nations Educational, Scientific and Cultural Organization. / UNDP. Creative Economy Report 2013 Special Edition: Widening Local Development Pathways. 2013. Available at: http://www.unesco.org/culture/pdf/creative-economy-report-2013-en.pdf. Accessed on: 27 June 2022.
VOSS, G.; CABLE, D.; VOSS, Z. Linking Organizational Values to Relationships with External Constituents: A Study of Nonprofit Professional Theatres. Organization Science, 11(3), 330-347, 2000.
YIN, R. K. Case Study Research Design and Methods. 5. ed. Thousand Oaks, CA: Sage. 2014.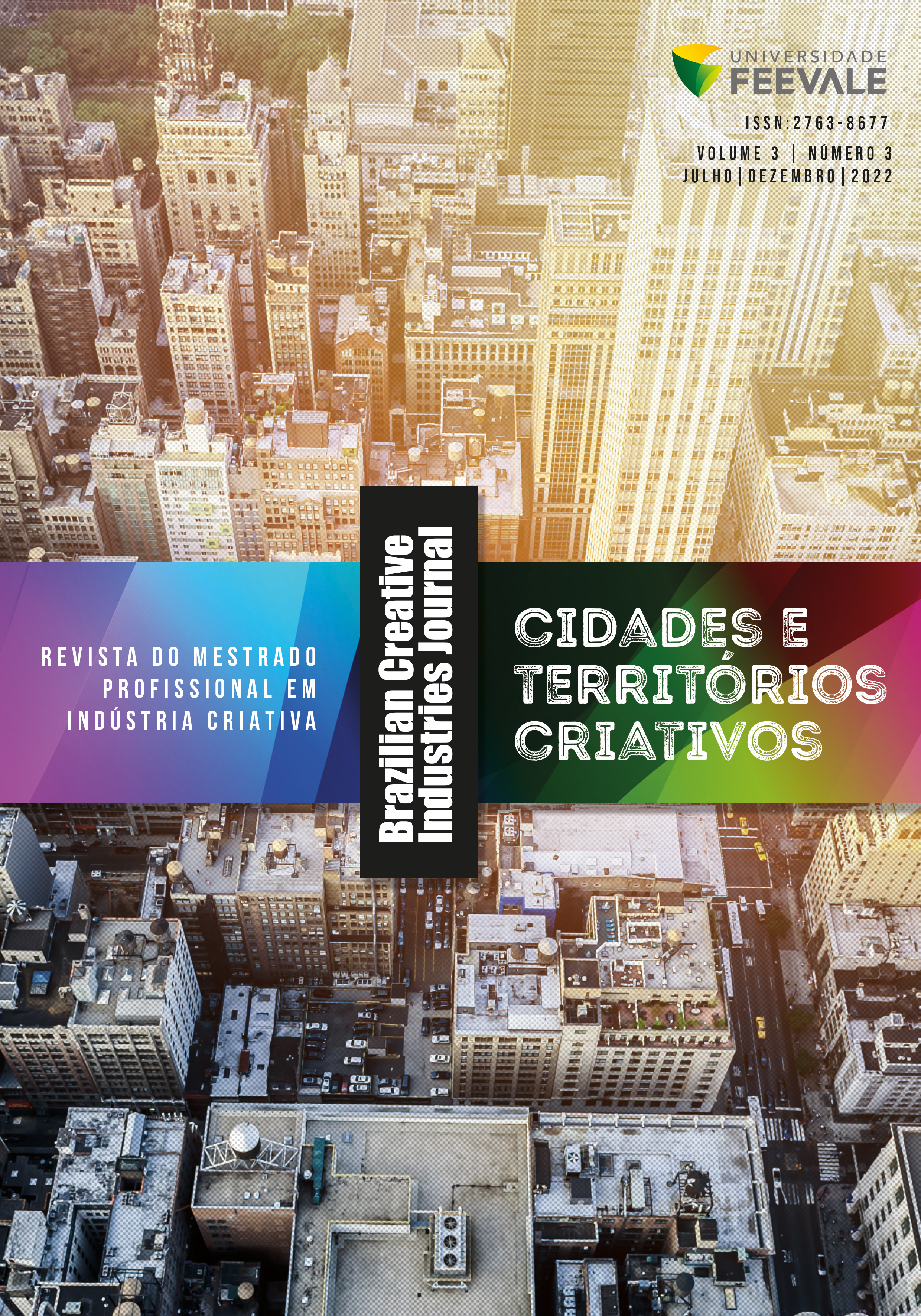 Downloads
Licença
Copyright (c) 2022 Valeria Pagani, Lenia Marques
Este trabalho está licenciado sob uma licença
Creative Commons Attribution 4.0 International License
.