COVID-19 PANDEMIC AND CREATIVITY: REFLECTIONS AND LESSONS FOR TOURIST CITIES, BY GREG RICHARDS
Palavras-chave:
Creativity, Sustainability, Covid-19 pandemic, Creative Cities
Resumo
There is a growing debate about the use of creativity for sustainable development, particularly in terms of increasing the creative potential of cities. However, studies based on the experiences and perspectives of leading authors in this area are limited. Greg Richards is a long-standing researcher on the application of creativity in various socio-economic sectors, including creative tourism, creative cities, economy, and creative industries. This study, based on a semi-structured interview conducted with Greg Richards, seeks to present some reflections and ideas for ways forward, considering the scenario before, during, and after the Covid-19 pandemic and its possible effects on the new economy. Particular attention is paid to the emerge of 'glocal' creativity, especially related to the UNESCO Creative Cities.
Referências
ANDRADE-MATOS, M. B.; RICHARDS, G.; BARBOSA, M. L. A. Rethinking authenticity through complexity paradigm. Annals of Tourism Research, v. 92, p. 1-12, 2022.
COHENDET, P.; SIMON, L.; SOLE PARELLADA, F.; VALLS PASOLA, J. Les villes créatives: une comparaison Barcelone-Montréal. Management international/Gestiòn Internacional/International Management, 13, v-xxi, 2009.
DUXBURY, N.; RICHARDS, G. Towards a research agenda for creative tourism: Developments, diversity, and dynamics. In: DUXBURY, N.; RICHARDS, G. (Eds.) A Research Agenda for Creative Tourism. Cheltenham, UK: Edward Elgar Publishing, 2019. p. 1-14.
EMMENDOERFER, M. L.; FIORAVANTE, A. S. A. Desafios para uma cidade ser criativa em uma sociedade (pós)pandêmica: um estudo sobre Ouro Preto (MG) Brasil. Brazilian Creative Industries Journal, v. 1, p. 194-219, 2021.
EMMENDOERFER, M. L.; MEDIOTTE, E. J. Crisis Management Modus and Sustainability in Touristic Destinations: Lessons From COVID-19. In: Costa, V.; Costa, C. (Orgs.). Sustainability and Competitiveness in the Hospitality Industry, Hershey, PA: IGI Global, 2022. Chapter 9. p. 1-30. (in press)
EMMENDOERFER, M. L.; MEDIOTTE, E. J.; SANTOS, Y. T. Governança pública no turismo: polissemia, reflexões e implicações. Ateliê geográfico (UFG), v. 16, p. 24-49, 2022.
EMMENDOERFER, M. L.; NIQUINI, W. T. R.; RICHARDS, G. Design do Programa Porto Alegre Turismo Criativo – Brasil. In: ASHTON, M. S. G. (Org.). Diálogos Interdisciplinares: indústria criativa, processos culturais, diversidade e inclusão. São Paulo: Pimenta Cultural, 2021. p. 126-152. DOI: https://doi.org/10.5281/zenodo.578752.
FERNANDES, C.; RICHARDS, G. Cultural tourism during the Pandemic: Lessons from Portugal. Tourism, Culture and Communication, 2022.
KUKUL, V. C.; GASTAL, S. A. Carnaval e turismo criativo: O case Bloco da Ovelha em Caxias do Sul-RS [Brasil]. Diálogo com a Economia Criativa, 7(19), 65-80, 2022.
MARQUES, L. De la littérature avant toute chose: gestion des cultures littéraires. Carnets. Revue électronique d'études françaises de l'APEF, (Première Série-1 Numéro Spécial), p. 463-476, 2009.
MARQUES, L. The making of the literary city: Edinburgh, Barcelona and Óbidos. In: JENKINS, I.; LUND, K. A. (Eds.). Literary tourism: Theories, practice and case studies. Wallingford: CABI, 2019.
MEDIOTTE, E. J.; EMMENDOERFER, M. L.; KNUPP, M. E. C. G.; CARVALHO, A. N.; VOLTA, C. L. C. C.; SANTOS, Y. T. Evidências da Governança na Gestão de Cidades Criativas da Gastronomia: análise de ações coletivas em instâncias municipais no contexto brasileiro. Revista Inclusiones - Revista de Humanidades Y Ciencias Sociales, v. 9, p. 24-57, 2022.
MEDIOTTE, E. J.; EMMENDOERFER, M. L.; SANTOS, Y. T.; FRAGA, B. O. Planejamento público e gerenciamento de crises no contexto da pandemia da Covid-19 em destinos turísticos no Brasil: Ações sustentáveis ou reações econômicas? Revista Dos Algarves, v. 40, p. 1-30, 2021.
MORAIS, M. C. A.; EMMENDOERFER, M. L.; MENDES, W. A.; ALMEIDA, F. M. Effects of cultural, economic and institutional factors on entrepreneurial activity. Sylwan, v. 166, p. 2-19, 2022.
RICHARDS, G. DisPlacements: The future of urban public space and tourism. The European Prize for Urban Public Space, CCCB, Barcelona, 2021b. Disponível em: https://www.publicspace.org/multimedia/-/post/displacements-the-future-of-urban-public-space-and-tourism. Acesso em: 12 de março de 2022.
RICHARDS, G. Rethinking Cultural Tourism. Cheltenham: Edward Elgar Publishing Limited, 2021a. 208p.
RICHARDS, G. Urban tourism as a special type of cultural tourism. In: VAN DER BORG, J. (ed.). Research Agenda for Urban Tourism. Cheltenham: Edward Elgar, 2022.
RICHARDS, G.; DUIF, L. Small Cities with Big Dreams: Creative Placemaking and Branding Strategies. New York: Routledge, 2018.
RICHARDS, G.; LEAL LONDOÑO, M. Festival Cities and Tourism: Challenges and prospects. Journal of Policy Research in Tourism, Leisure and Events, 2022.
RICHARDS, G.; MARQUES, L. Creating synergies between cultural policy and tourism for permanent and temporary citizens. Barcelona: Committee on Culture of UCLG, 2018. Disponível em: https://www.researchgate.net/publication/330245263_creating_synergies_between_cultural_policy_and_tourism_for_permanent_and_temporary_citizens. Acesso em: 12 de março de 2022.
VARNA, G.; OSWELL, D. Towards a stronger quality-of-place agenda in the'new normal'. The Town Planning Review, 92(1), 107-114, 2021.
WORLD BANK. COVID-19 to Plunge Global Economy into Worst Recession since World War II. Washington, D.C., 2020. Disponível em: https://www.worldbank.org/en/news/press-release/2020/06/08/covid-19-to-plunge-global-economy-into-worst-recession-since-world-war-ii. Acesso em: 12 de março de 2022.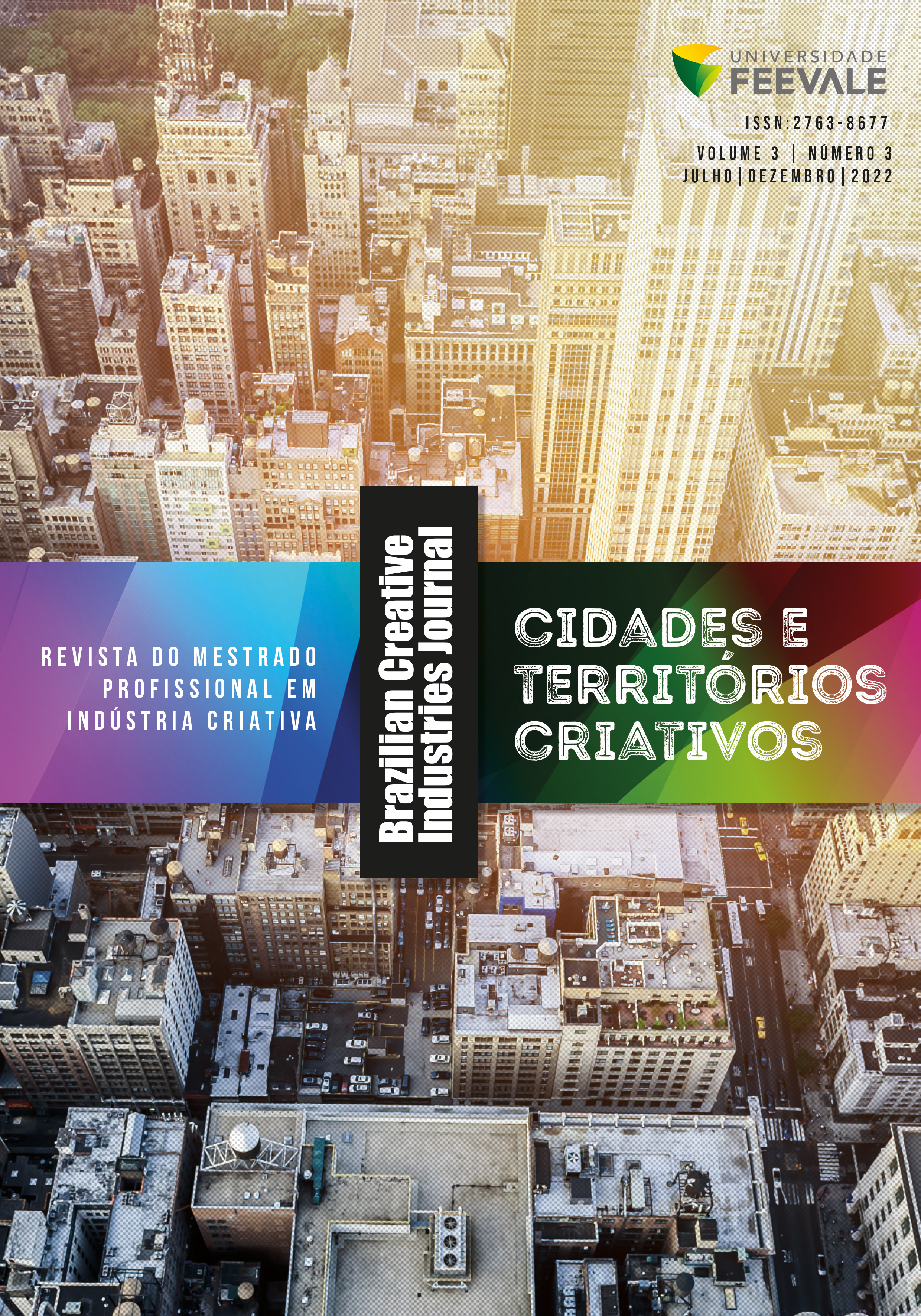 Downloads
Licença
Copyright (c) 2022 Elias Mediotte, Greg Richards
Este trabalho está licenciado sob uma licença
Creative Commons Attribution 4.0 International License
.