TALENT MANAGEMENT: THE ROLE OF LEARNING ORIENTATION IN FOSTERING DYNAMIC ORGANIZATIONAL CAPABILITIES
Palavras-chave:
Dynamic Capabilities. Talent. Talent Management.
Resumo
In the current conjuncture, companies can recover human capital, and developing development capabilities at the human and organizational levels has become a huge challenge. The present research aims to identify and analyze what shapes management and the exercise of competence management in the dynamic capabilities of management. Given this, it is essential to conceptualize talent, and dynamic capabilities and emphasize their importance in organizations. The study is characterized as descriptive research with an approach. In research, which has the technical methodology as a form of investigation, there is a need for the research problem to be in the form of a question, interrogation, or as a form of objective, affirmation. From the results, it can be seen that talents favor the development of capabilities. From the data, there must be a strong incentive to do things right, as well as the positive development of large companies and, consequently, the development of dynamic forces and, consequently, the development of the company's dynamic capabilities. which are crucial to organizational success.
Referências
AL HARBI, J. A.; ALARIFI, S.; MOSBAH, A. Transformation leadership, and creativity: Effects of employees psychological empowerment and intrinsic motivation. Personnel Review, v. 48, n. 5, p. 1082–1099, 2019.
ALPES, M. F.; WOLF, A. E. Tutoria Acadêmica ("Mentoring"): relato de experiência de um tutorado à tutor. Extensão em Foco, v. 16, p. 90-98, 2018.
ANLESINYA, A.; AMPONSAH-TAWIAH, K. Towards a responsible talent management model. European Journal of Training and Development, v. 44, n. 2–3, p. 279–303, 2020.
ARBOITE, M. R. da S. GESTÃO POR COMPETÊNCIA - UM NOVO OLHAR EM RELAÇÃO ÀS POLÍTICAS E PRÁTICAS DE RECURSOS HUMANOS. Revista Gestão e Desenvolvimento, [S. l.], v. 4, n. 1, 2007.
ASIF, M. et al. Ethical leadership, affective commitment, work engagement, and creativity: Testing a multiple mediation approach. Sustainability (Switzerland), v. 11, n. 16, 4489, 2019.
BAK, H. U. Supervisor Feedback and Innovative Work Behavior: The Mediating Roles of Trust in Supervisor and Affective Commitment*. Frontiers in Psychology, v. 11, 559160. September 2020.
BARNEY, J. B; HESTERLY, W. S. Administração estratégica e vantagem competitiva. (3a ed.). São Paulo: Pearson Prentice Hall, 2011.
CAMARA, P. B., GUERRA, P. B., RODRIGUES, J. V. Humanator XXI Recursos Humanos e Sucesso Empresarial (7ª ed.). Lisboa: Dom Quixote, 2016.
CAMPOS, T. M.; MACHADO, M. C.; FISCHER, A. L. GESTÃO DE RECURSOS HUMANOS EM MICRO E PEQUENAS EMPRESAS: DIRECIONAMENTOS DO SEBRAE PARA ESTIMULAR O DESENVOLVIMENTO DE POLÍTICAS E PRÁTICAS. Revista Gestão e Desenvolvimento, [S. l.], v. 14, n. 2, p. 111–125, 2017.
CAMPOS, W. Y. Y. Z. et al. Capacidades dinâmicas e setor público: revisão teórica e análise bibliométrica na Web of Science de 2000 a 2019. Revista de Administração e Negócios da Amazônia, v. 12, n. 3, p. 143–162, 2020.
EASTERBY-SMITH, M.; PRIETO, I. M. Dynamic capabilities and knowledge management: An integrative role for learning? British Journal of Management, v. 19, n. 3, p. 235–249, 2008.
FERNANDES, A. Gestão de Talentos: 14 Olhares sobre a Gestão de Pessoas. Cascais: Pergaminho, 2001.
FERREIRA, J.; COELHO, A.; MOUTINHO, L. Dynamic capabilities, creativity and innovation capability and their impact on competitive advantage and firm performance: The moderating role of entrepreneurial orientation. Technovation, v. 92, 102061, 2020.
GALLARDO-GALLARDO, E.; THUNNISSEN, M.; SCULLION, H. Talent management: context matters. International Journal of Human Resource Management, v. 31, n. 4, p. 457–473, 2020.
GEBELEIN, S. Talent management: Today's HR departments do much more than just hiring and firing. Personnel decisions international (PDI). Minnesota Business Magazine, p. 5-12, 2006.
GRAHAM, M.; HJORTH, I.; LEHDONVIRTA, V. Digital labor, and development: impacts of global digital labor platforms and the gig economy on worker livelihoods. Transfer, v. 23, n. 2, p. 135–162, 2017.
HIGGINS, M. C.; KRAM, K. E. Reconceptualizing Mentoring at Work: a developmental network perspective. Academy of Management Review, v. 16, p. 264-288, 2001.
JÄRVI, K.; KHOREVA, V. The role of talent management in strategic renewal. Employee Relations, v. 42, n. 1, p. 75–89, 2020.
JEREZ-GÓMEZ, P.; CÉSPEDES-LORENTE, J.; VALLE-CABRERA, R. Organizational learning and compensation strategies: Evidence from the Spanish chemical industry. Human Resource Management, v. 44, n. 3, p. 279–299, 2005.
KAPPES, L.; DRUMM, E. C. A CAPACITAÇÃO E O DESENVOLVIMENTO DAS COMPETÊNCIAS NECESSÁRIAS À FORMAÇÃO DE UM FUNDIDOR DE BARBOTINA EM UMA INDÚSTRIA DO SEGMENTO DE CERÂMICA TRIAXIAL. Revista Gestão e Desenvolvimento, [S. l.], v. 5, n. 1, 2008.
KINDSTRÖM, D.; KOWALKOWSKI, C.; SANDBERG, E. Enabling service innovation: A dynamic capabilities approach. Journal of Business Research, v. 66, n. 8, p. 1063–1073, 2013.
KLEIN, D. A. A gestão estratégica do capital intelectual: Recursos para a economia baseada em conhecimento. Rio de Janeiro: Qualitymark Editora, 1998.
LAMBRIEX-SCHMITZ, P. et al. Towards successful innovations in education: Development and validation of a multi-dimensional Innovative Work Behaviour Instrument. Vocations and Learning, v. 13, n. 2, p. 313–340, 2020.
LIN, H. F. Knowledge sharing, and firm innovation capability: An empirical study. International Journal of Manpower, v. 28, n. 3–4, p. 315–332, 2007.
LINDE, L. et al. Dynamic capabilities for ecosystem orchestration A capability-based framework for smart city innovation initiatives. Technological Forecasting and Social Change, v. 166, p. 120614, 2021.
LOONEY, C. A.; LOONEY, J. K. Attracting top talent and retaining stars. Wiley Periodicals, INC., pp. 99-107, 2005.
MAGNAN, M.; MARTIN, D. Executive Compensation, and Employee Remuneration: The Flexible Principles of Justice in Pay. Journal of Business Ethics, v. 160, n. 1, p. 89–105, 2019.
MARTINS, N., OHE, H. V.. Trust as a Factor in Determining how to Attract, Motivate and Retain Talent. Journal of Industrial Psychology, v. 28, n. 4, pp. 49-57, 2003.
MCDONALD, K. S.; HITE, L. M. Conceptualizing and Creating Sustainable Careers. Human Resource Development Review, v. 17, n. 4, p. 349–372, 2018.
MIAO, R.; CAO, Y. High-performance work system, work well-being, and employee creativity: Cross-level moderating role of transformational leadership. International Journal of Environmental Research and Public Health, v. 16, n. 9, p. 1–24, 2019.
MICHAELS, E., HANDFIELD-JONES, H.; AXELROD, B. A Guerra pelo Talento. Rio de Janeiro: Campus, 2002.
MOREIRA, L. F.; SILVA, D. F.; SCHLINDWEIN, C. E.; ALMEIDA, E. C. de. A DOMINAÇÃO NO ÂMBITO DAS ORGANIZAÇÕES COM A PERSPECTIVA DE ARTIGOS REFERENCIADOS NA OBRA DE GARETH MORGAN. Revista Gestão e Desenvolvimento, [S. l.], v. 17, n. 1, p. 87–106, 2020.
NIEVES, J.; HALLER, S. Building dynamic capabilities through knowledge resources. Tourism Management, v. 40, p. 224–232, 2014.
NONAKA, I., TAKEUCHI, H. Criação de Conhecimento na Empresa (13ª ed.). Rio de Janeiro: Elsevier, 1997.
OLIVEIRA, L. B.; CAVAZOTTE, F.; DUNZER, R. A. The interactive effects of organizational and leadership career management support job satisfaction and turnover intention. International Journal of Human Resource Management, v. 30, n. 10, p. 1583–1603, 2019.
ONÇA, S. DA S.; BIDO, D. DE S.; CARVALHO, A. DOS S. C. Clima e comportamentos de aprendizagem grupal. Organizações & Sociedade, v. 25, n. 86, p. 392–412, 2018.
OXFORD UNIVERSITY PRESS. New Oxford American dictionary. Oxford: Author, 2010.
PALMA, P. J.; CUNHA, M. P. Retenção de Talentos: Uma prioridade para a competitividade. 2009, pp. 28-32.
PEDRO, J.M. Contabilização e Avaliação de Capital Conhecimento. Lisboa: Universidade Católica Editora, 2009.
ROSA, L. A. B. DA et al. Modelos De Negócios: Análise Da Produção Científica Internacional Nas Bases De Dados Web of Science E Scopus No Período De 2010 a 2019. Revista GESTO: Revista de Gestão Estratégica de Organizações, v. 9, n. 1, p. 2–20, 2020.
SALVATO, C.; VASSOLO, R. The sources of dynamism in dynamic capabilities. Strategic Management Journal, v. 39, n. 6, p. 1728–1752, 2018.
SCHOEMAKER, P. J. H.; HEATON, S.; TEECE, D. Innovation, dynamic capabilities, and leadership. California Management Review, v. 61, n. 1, p. 15–42, 2018.
SENDJAYA, S. et al. Leading others to go beyond the call of duty: A dyadic study of servant leadership and psychological ethical climate. Personnel Review, v. 49, n. 2, p. 620–635, 2019.
SERENKO, A. et al. A scientometric analysis of knowledge management and intellectual capital academic literature (1994-2008). Journal of Knowledge Management, v. 14, n. 1, p. 3–23, 2010.
SGARBOSSA, M.; MARTINS, N. A.; MOZZATO, A. R. O QUE SE PRODUZIU EM DESAPRENDIZAGEM ORGANIZACIONAL NOS ÚLTIMOS DEZ ANOS? UMA REVISÃO BIBLIOMÉTRICA DA PRODUÇÃO CIENTÍFICA. Revista Gestão e Desenvolvimento, [S. l.], v. 18, n. 1, p. 194–221, 2021.
SILVA, C. R. E. DA. Orientação Profissional, mentoring, coaching e counseling: Algumas singularidades e similaridades em práticas. Revista Brasileira de Orientação Profissional, v. 11, n. 2, p. 299–309, 2010a.
SILVÉRIO, Z. Mª. De M. F. Gestão e Retenção de Talentos: Uma Análise com Abordagem em Capacidades Dinâmicas. Lisboa, 2017. Dissertação (Mestrado em Estratégia de Investimento e Internacionalização) – Escola de Lisboa, Lisboa. 95p., 2017.
SINGH, B.; RAO, M. K. Effect of intellectual capital on dynamic capabilities. Journal of Organizational Change Management, v. 29, n. 2, p. 129-149
TALUKDER, A. K. M. M. H. Supervisor Support and Organizational Commitment: The Role of Work-Family Conflict, Job Satisfaction, and Work-Life Balance. Journal of Employment Counseling, v. 56, n. 3, p. 98–116, 2019.
TEECE, D. J. Business models and dynamic capabilities. Long Range Planning, v. 51, n. 1, p. 40–49, 2018.
ULRICH, D. The future targets or outcomes of HR work: individuals, organizations, and leadership. Human Resource Development International, v. 17, n. 1, p. 1-9, 2014.
WALUMBWA, F. O.; HARTNELL, C. A.; OKE, A. Servant Leadership, Procedural Justice Climate, Service Climate, Employee Attitudes, and Organizational Citizenship Behavior: A Cross-Level Investigation. Journal of Applied Psychology, v. 95, n. 3, p. 517–529, 2010.
WANG, C. L.; AHMED, P. K. Dynamic capabilities: a review and research agenda. International Journal of Management Reviews, v.9, n. 1, p.31-51, 2007.
WANG, C. L.; SENARATNE, C.; RAFIQ, M. Success traps, dynamic capabilities and firm performance. British Journal of Management, v. 26, n. 1, p. 26–44, 2015.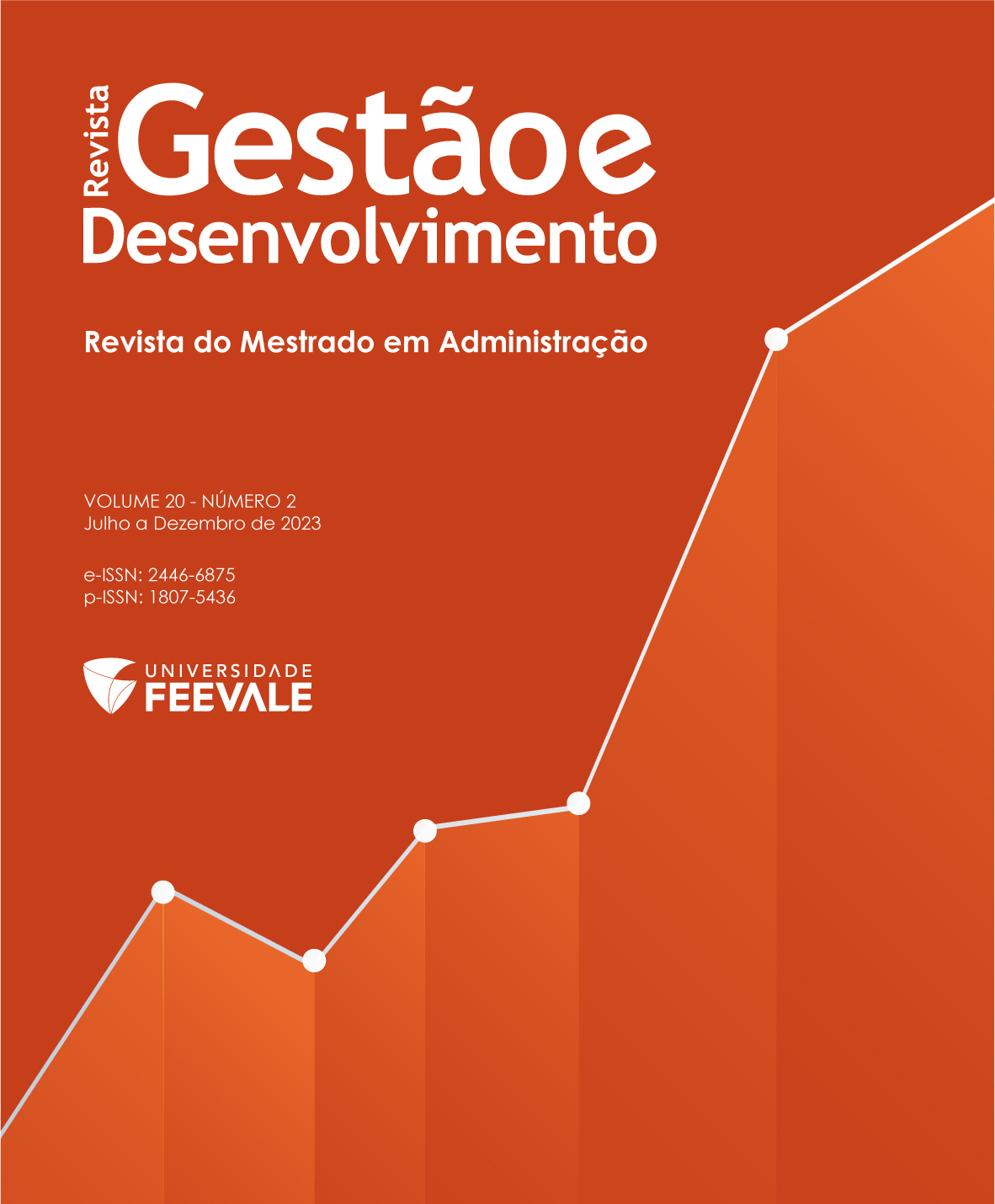 Downloads
Como Citar
Rosa, L. A. B. da ., Röhrs, B. S., Rodrigues, M. C. M. ., Campos, W. Y. Y. Z. ., Sousa, M. J. de, & Barbieri, L. C. . (2023). TALENT MANAGEMENT: THE ROLE OF LEARNING ORIENTATION IN FOSTERING DYNAMIC ORGANIZATIONAL CAPABILITIES. Revista Gestão E Desenvolvimento, 20(2), 224–249. https://doi.org/10.25112/rgd.v20i2.3221
Licença
Copyright (c) 2023 LUCIANA APARECIDA BARBIERI DA ROSA, Bruna Schuh Röhrs, Maria Carolina Martins Rodrigues, Waleska Yone Yamakawa Zavatti Campos, Maria Jose de Sousa, Larissa Cristina Barbieri
Este trabalho está licenciado sob uma licença
Creative Commons Attribution 4.0 International License
.
• Os autores mantêm os direitos autorais e concedem à revista o direito de primeira publicação com o trabalho licenciado sob a Licença Creative Commons - Attribution 4.0 International (CC BY 4.0).
• Os autores são estimulados a publicar e distribuir seu trabalho online (ex.: em repositórios institucionais ou na sua página pessoal), pois isso pode aumentar o impacto e a citação do trabalho publicado.