THE INFLUENCE OF NARRATIVE MEDICINE TECHNIQUES ON THE ROLES OF POTENTIAL PATIENT AND FUTURE CAREGIVER – A PILOT STUDY
Resumo
ABSTRACT
The emergent field of the Medical Humanities defends the introduction of training in the humanities in healthcare contexts. Considering Narrative Medicine as one of the areas of the Medical Humanities, a pilot study was conducted with a group of 9 students (Medical and Humanities) to gain some insight as to if/how training in Narrative Medicine techniques (namely, close reading of and creative/reflective writing on literary narratives on the thematics of health) could promote changes in participants' perceptions of their potential roles as patients or caregivers. Alterations were assessed using semi-structured, focus-group interviews carried out after training. Qualitative thematic analysis was used to examine interview responses. The interviews demonstrated that participants perceived that the training had enhanced their capacity to fulfill their patient and caregiver roles. Potential patients expressed a desire to interact more fully and efficiently in healthcare relationships and future healthcare professionals expressed a desire to attend their patients more comprehensively. Moreover, participants' responses spoke to the potential benefits of using Narrative Medicine literary analysis techniques with mixed groups. The findings of this study are presented within the context of contemporary theories on the Medical Humanities and Health Humanities.
Keywords: Narrative Medicine. Medical Humanities. Close reading. Reflective writing.
RESUMO
O campo emergente das Humanidades Médicas defende a introdução de formação nas humanidades nos contextos da saúde. Considerando-se a Medicina Narrativa uma das áreas das Humanidades Médicas, foi realizado um estudo piloto com um grupo de 9 estudantes de Medicina e Humanidades, de modo a explorar como o treino em técnicas de Medicina Narrativa (i.e., a leitura cerrada e a escrita reflexiva de narrativas literárias na temática da saúde) pode promover mudanças nos seus potenciais papéis de paciente ou cuidador. Após o treino foram realizadas entrevistas de grupo de foco para explorar a percepção dos participantes sobre as mudanças decorrentes daquele treino nos seus potenciais papéis de paciente ou cuidador. As respostas às entrevistas foram sujeitas a uma análise de conteúdo temática, tendo revelado que os participantes percepcionaram que o treino potenciou as suas capacidades de desempenho dos seus papeis de paciente e cuidador. As respostas suportam os benefícios potenciais das técnicas de análise literária da Medicina Narrativa com grupos compostos por profissionais de saúde e pacientes, sugerindo que isso pode ajudar os profissionais de saúde a atender melhor aos seus pacientes, mas também que pode permitir que os próprios pacientes participem de maneira mais completa e eficiente na relação de cuidado. Os resultados são interpretados no contexto das teorias contemporâneas das Humanidades Médicas e das Humanidades da Saúde.
Palavras-chave: Medicina Narrativa. Humanidades Médicas. Leitura cerrada. Escrita reflexiva.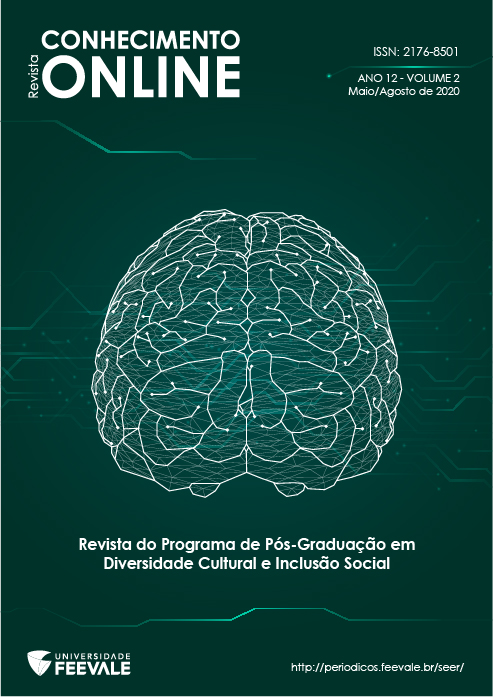 Como Citar
Martins, C. B., Duarte, A. M., Marques, C. P., & Mesquita, F. (2020). THE INFLUENCE OF NARRATIVE MEDICINE TECHNIQUES ON THE ROLES OF POTENTIAL PATIENT AND FUTURE CAREGIVER – A PILOT STUDY. Revista Conhecimento Online, 2, 03–16. https://doi.org/10.25112/rco.v2i0.2108
Licença
• Os autores mantêm os direitos autorais e concedem à revista o direito de primeira publicação com o trabalho licenciado sob a Licença Creative Commons - Attribution 4.0 International (CC BY 4.0).
• Os autores são estimulados a publicar e distribuir seu trabalho online (ex.: em repositórios institucionais ou na sua página pessoal), pois isso pode aumentar o impacto e a citação do trabalho publicado.